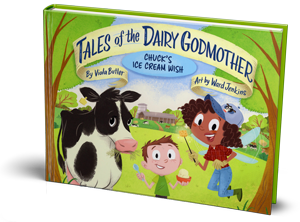 Are you a coordinator or leader for a volunteer group, such as FFA, 4-H or county farm bureau? Consider organizing your group to participate as readers Ag Literacy Week.
Reading Form
2021 Options for Reading
Chuck's Ice Cream Wish -Tales of A Diary Godmother
to your classroom:
Schedule an In-person Reading
Schedule an in-person reading with your school and teacher.
---
Set up a Zoom Session

Set up a Zoom session with the classroom teacher and read live to the students at a time you schedule with the teacher. You can open a free Zoom account at www.zoom.us. A free account allows you to have 40 minutes of Zoom time which should be enough to read the book and answer questions from the students. If you need assistance setting up a free Zoom account, contact the Foundation.
---
Record Yourself Reading
Record yourself reading the book via a free Zoom account. Then send your recording to the classroom teacher to view with the students. The Foundation can provide you with directions on how to do a Zoom recording.
---
Invite Your School to a Live Reading
Have your school join in to watch Pennsylvania Farm Bureau President, Rick Ebert, read Chuck's Ice Cream Wish on Friday, March 19, 2021 (time to be determined). The reading will be followed by a live Zoom session with Rick Ebert and Chuck, live from Chuck's Farm in Maryland. Rick and Chuck will answer questions from teachers and students live!
How does my group participate?
Group members will be required to contact the teachers of the classrooms that your group chooses to visit and coordinate a specific day and time to visit their classroom to read during the PA Ag Literacy Week.
1.

Collect the following information about each the classrooms you will be visiting before completing the online registration form:

·       teacher

·       teacher email

·       county

·       school district

·       school name

·       grade

·       number of students

2.

Register your classroom by clicking on the link above to begin your group registration.
What happens next?
By the end of February, Pennsylvania Friends of Agriculture Foundation the will send you the Ag Literacy Week book of the year and instructions to complete your classroom visit.
If your group participated this past year, thank you for seeing the need for agricultural education and joining with us to take agriculture directly into the classroom.
We look forward to having you join us again.