Below are important FAQs to know about booking the Farms to Families Immersion Lab powered by GIANT and supported by the Pennsylvania Friends of Agriculture Foundation and Pennsylvania Farm Bureau. The lab allows guests to learn about PA farms, discover environmental considerations to impact food production, experience riding on a tractor through a VR corn field, quiz yourself to see how well you know common fruits and vegetables, practice building a balanced meal with Pennsylvania-grown foods and learn about the community it takes to bring food from the field to the plate for PA families.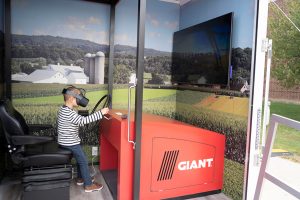 Q: When should I submit a request to have the lab at my event?
A: As soon as you know your event date is ideal, but the minimum for this lab is 8 weeks in advance of the event.
Q: Is the Immersion Lab free to book for my event?
A: No. However, you are welcome to make requests to your local county Farm Bureaus and other organizations to help you raise money to cover the lab costs. The Foundation is not responsible for finding these funds for you.
Q: How much does it cost to bring the lab to my event?
A: The lab costs depend on how far the lab needs to travel from our office in Camp Hill, how many days you would like to reserve the lab, and who our closest staff member is to your location. Because there are so many factors that go into creating an estimate, there is no single price for the lab. Once you fill out the booking request, we will send you an estimate.
Q: How many hours per day can I expect the lab to be open at my event?
A: The lab can be open a maximum of 8 hours per day at your event. When you fill out the booking request, we will ask for your "busiest hours" – If your event runs from 9 AM to 10 PM, you will want to list here the 8 hours in that time frame that you would like the lab open. For example, "Busiest Hours" may be 12 PM – 8 PM, or 10 AM – 6 PM.
Q: Can I use volunteers to staff the lab?
A: You may have volunteers available to help the staff member assigned to your event, but only trained Lab Employees may officially staff the event. Every event must have at least one Immersion Lab Staff Member, regardless of the number of volunteers.
Q: How can I book the lab?
A: Submit a booking request using this form: https://pfbfriends.com/education/foundation-agriculture-immersion-lab/Agriculture%20Immersion%20Lab%20Request%20Form/
Or call us at: 717-761-2740
Q: When will I hear back about my request?
A: You will hear from a Foundation staff member within 1-2 weeks from the time you submit your request. You will receive an estimate and then we can move forward with signing official contracts and getting your dates reserved on the schedule.
Q: What is the size of the lab?
A: Fully opened: 35 feet 6 inches long, 15 feet 3 inches wide, 9 feet 7 inches tall
Fully closed: 27 feet long, 8 feet 4.25 inches wide, 9 feet 7 inches tall
Q: Are you hiring for lab leader positions?
A: Yes! You can apply here: https://pfbfriends.com/about-us/career-opportunities/
Q: What activities can my event attendees expect from the lab?
A: All sections of the lab are interactive. They include: Agriculture Trivia, My Pennsylvania Plate, Balanced Lifestyle, Farm to Table, Soil Sampling, Meet The Farmer videos, and most exciting, a virtual tractor ride using Virtual Reality (VR) goggles.
Q: How is this lab different from the Mobile Ag Labs that visit my school?
A: The Immersion Lab is designed to visit special events and fairs, and can be viewed at the attendee's own pace. The Immersion Lab can be booked for one day or ten days, or however many days your event is taking place. It is much more flexible than the Mobile Ag Lab and is physically smaller in size.
For more information on the Mobile Ag Lab Program please go here: https://pfbfriends.com/mobile-agriculture-education-science-lab/
Q: Is there an age requirement to visit the lab?
A: Nope! The lab is designed to be an educational experience for all ages, even adults. We just ask that little ones are accompanied by an adult as they explore the activities.
Q: Who should I contact if I have more questions about the Immersion Lab?
A: Please send all inquiries to the Foundation Events Coordinator, Carolina Nicholson: