Share the story of agriculture with us March 15-19, 2021.
Book of the Year: Tales of the Dairy Godmother – Chuck's Ice Cream Wish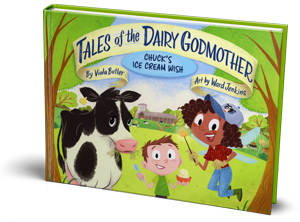 Chuck's Ice Cream Wish is an engaging book about agriculture taking its readers behind the scenes to a dairy farm to learn about how we get the milk used to make ice cream. It shows students the hard work farmers do each day to grow and produce our food and how it goes from the farm to the table for us to consume.
Lessons and Resources
Daily Activities for Chuck's Ice Cream Wish
Thank You 2021 Sponsors
Allied Milk Producers
Growmark Foundation
Nationwide Insurance
Northeast Agricultural Education Foundation
PA Dairymen's Association
PA Grain Processing
PA Pork Producers
PA Soybean Board
PA Livestock Assoc.
The Donald B & Dorothy L. Stabler Foundation
About
Pennsylvania Ag Literacy Week focuses on connecting volunteers from the agricultural community to local classrooms to share the story of agriculture. It is an opportunity for Pennsylvania agriculturalists (farmers, industry representatives, FFA teachers and students, and others supportive of agriculture) to be the face of agriculture in kindergarten-2nd grade classrooms across the commonwealth. Readers who participate in Pennsylvania Ag Literacy Week will have the opportunity to talk about farming and agriculture through the book they read as well as sharing their own story about farming, agriculture programs they are involved with or their connections to agriculture.
What We Believe
We strongly believe the future success of agriculture depends upon developing an ag-literate society- with individuals who understand and can communicate the source and value of agriculture as it affects our quality of life. With the majority of children today three to four generations removed from living and working on farms, we must provide that farm connection for the next generation. It is crucial that children and adults recognize and appreciate the vital role agriculture plays in our way of life.