E. Chester Heim Scholarship Fund
Members of PFB families who attend Penn State's College of Agriculture or Delaware Valley University are eligible to apply for financial assistance through the PFB Ag Scholarship. The Ag Scholarship is funded by the Pennsylvania Friends of Agriculture FoundationSM.
Consideration for the Ag scholarship shall be given to all full-time, undergraduate students enrolled or planning to enroll in the College of Agricultural Sciences at Penn State University or Delaware Valley University; who have achieved superior academic records or who manifest promise of outstanding academic success; who have a need for financial assistance to meet their necessary college expenses; and who are members, or whose parents or guardians are members, of the Pennsylvania Farm Bureau. Endowed by the Pennsylvania Farm Bureau.
Apply for Scholarship
Richard W. Newpher/Farm Bureau Endowed Scholarship Fund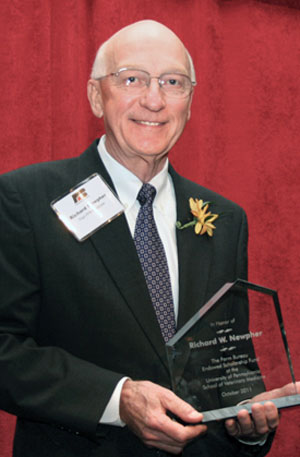 Large Animal Vet Scholarship Perpetuating the Spirit of Veterinary Humanity
The Pennsylvania Friends of Agriculture Foundation has a scholarship program aimed at encouraging students to pursue veterinary careers in large animal agriculture.
In pursuit of our Foundation's mission, we feel it is critically important to raise awareness of the need for veterinarians who work in food supply; the food chain from farm to fork.
Both the veterinary and agricultural communities of Pennsylvania are concerned about developing veterinarians who will choose to care for producers' livestock. This is critical to our ability to manage biosecurity, public health and food safety. We firmly believe in order to entice Pennsylvania students who attend the University of Pennsylvania to create a large animal practice; we must provide scholarship assistance to them.
To this end, we ask for your assistance in this very important endeavor. Simply put, we need your help! The families of Pennsylvania need your help; farmers need your help.
Please select the Richard W. Newpher/Farm Bureau Endowed Scholarship when you donate today! We are a 501(c)(3) organization, and your donation is considered a charitable contribution and is tax-deductible to the fullest extent of the law.
Make a donation or donate in memory of someone.